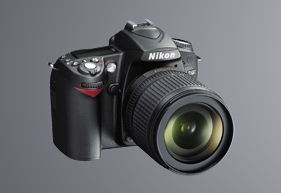 I recently picked up a Nikon D90 body, and have only just started to play with it. Although it hasn't seen a real stress test yet, so far, 12.3 megapixels of rich colour have been most appreciated.
Compared to my previous D70s, the camera shoots impressively well in low light. Indoor shots taken at 800-1600 ISO (and even 3200 ISO) look sharp and impressively grain-free, even when enlarged. I also really like the ability to configure a custom menu that's opened by the button under your right index finger, to give yourself rapid access to functionality that was previously buried in menus.
Ken Rockwell's D90 Users Guide In Plain English has some great tips for tweaking the D90's initial settings for ease of use and good results. I took his tip to change the customizable button to the Set Picture Control menu, which lets me quickly switch between Standard for people shots, and Vivid for lanscapes. Check out Ken's guide for more tips.
The D90 has the unique ability among DSLRs of its class to shoot video of up to 1280×720 resolution (720p).  When in video mode, the camera does not auto-focus, so you have to shoot Hollywood-style.
I wasn't sure if the D90 video quality could be taken seriously until I saw this Youtube video of a Henkell Champagne commercial that was shot with the D90 (direct link).  They apparently used several Nikon lenses to get the job done (Nikon 400 2.8, Nikon 80-200 2.8, Nikon 50 1.8, Nikon 17-55 2.8).
The commercial's subject matter is not too hard on the eyes, either.
Wow – very cool, and proof to me that in the right hands, the D90's video functionality can produce some amazing results. Now I need to learn some videography (and invest in a few lenses!).