The Legend of the Greasepole is a multimedia tribute to the inexplicable Engineering traditions at Queen's University in Canada. Over 50 students contributed to the project.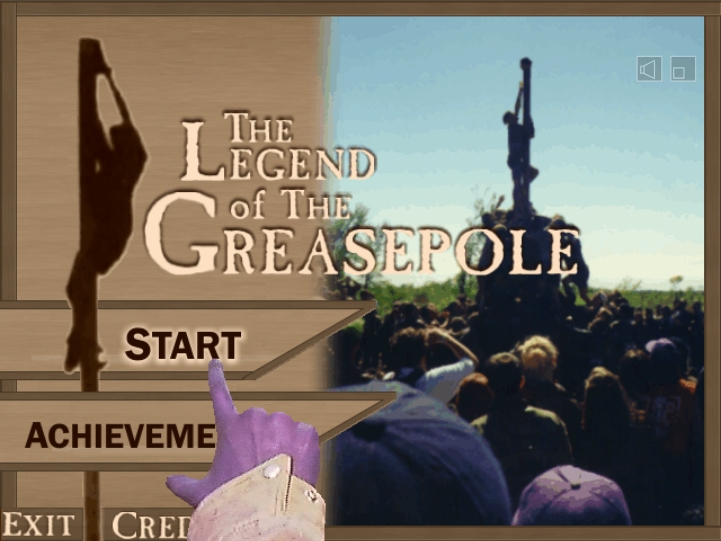 What's Cool About This
There's a significant AI component to Greasepole – the autonomous frosh characters have models for learning and communicating with one another. More information used to be on the Queens Engineering Society site. [actually, I'm now hosting this locally, as the Queen's EngSoc site is being moved. If you're from Queen's and you have this back online, could you let me know? ]
Legend of the Greasepole was originally built as a PC game using DirectX. It was subsequently ported to XNA so it would work on the XBox 360, and then to Silverlight so that it would work on the web.
A quick explanation of how to play is here on the LegendWeb, hosted on the Queens EngSoc server. [currently hosted locally]
I was Producer and Lead Developer of Legend of the Greasepole, and Craig Calvert was the project's Artistic Director and Lead Artist.
The Storied History of Greasepole:
First Release 1998 for PC in C++.
Re-released in 2007 for PC and XBox 360 with XNA.
Re-released in 2008 for the Web with Silverlight 2 (please see below).
Re-released in 2010 for the Web with Silverlight 4.
PC and XBox360 versions
The XNA and original C++ versions are available for download at the Queen's University Engineering Society website.
Silverlight version
As part of a demo, I ported Legend of the Greasepole to Silverlight, so it could be enjoyed from the comfort of the web on Mac and PC. With the release of Silverlight 4 in 2010, it was hardware-accelerated, so it performed pretty well (with a couple of foibles – the full PC version is a labour of love and definitely more polished). RIP Silverlight.