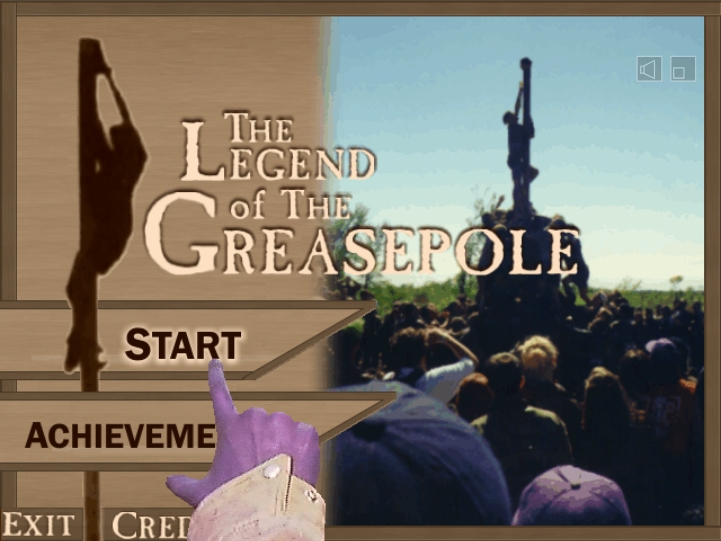 Legend of the Greasepole has been ported to Silverlight 4 and reincarnated on http://greasepole.net.
Greasepole is the long-suffering game about multimedia tribute to the inexplicable Engineering traditions at Queen's University in Canada. Over 50 students contributed to the project back in the day.
There's a significant AI component to Greasepole – the autonomous "frosh" characters have models for learning and communicating with one another.
A couple of years ago I ported it from C++ to C# and XNA. I abstracted out a series of services (graphics, sound, input, timer, persistence) so that it might ultimately be ported again to a platform like, say, Silverlight or something. Why? I don't know, maybe I'm a little obsessed with the illusion of preservation.
The Silverlight 2 version was a bit shaky. Silverlight 4's hardware acceleration and bitmap caching make it pretty solid. It is also awesome to hear from friends that it apparently works on the Mac.
Analyze These… Shenanigans
I also added a little analytics. Although it should probably be said that the Greasepole event largely defies analysis, the game itself does not, and so this is the first time I can let someone poke their head in and see how the froshies are doing all around the world.
Back in the day, the worldwide best time was in excess of a mere 53 minutes. But I had to learn that by way of Sean Murray (class of '05; wonder where he is now) sending me a screenshot. Now the interwebs will tell us immediately. (Admittedly, it's not a fair fight against Sean, because the frosh are now permanently in "keener" mode, and the Options screen has been replaced by a dozen trendy Achievements for you to "unlock").
So get going stalling those frosh, and my question for you is – what statistics would you like to see?
"Number of pints Al 'Pop Boy' Burchell has quaffed?"
"Number of hippos fed"?
"Height of human pyramid vs time"?
I am going to enjoy cooking up visualizations for some of those.
(Coding notes: A few new VS2010 things helped with this update: Web.config transformation (rocks), improvements to Web Publish functionality, XAML designer, Entity Framework experience… and more.)