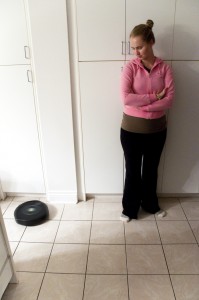 I finally watched a Roomba dance its funky dance.
The iRobot Roomba 550 we affectionately named Butler spent a half-hour cleaning the 4 downstairs rooms of a home, sucking up an impressive gob of dust from the previous night's party.*
As I watched Roomba, I realized I'd forgotten…
How much we are inclined to anthropomorphize technology.
How we're wired to perceive complex reasoning where only simple behavior exists.
How important it is to have users on your side!
(Roomba was occasionally bumbling but always so helpful — looking everywhere for last night's crumbs, remembering which area needs more attention, and just generally "doing his best.")
First Impressions
The design of the unit is clean, sleek, and functional.

The "wall following" behavior is particularly clever and plays to the strengths of the round unit.
Object detection mostly works (it's supposed to slow down before a bumper-kiss), but it was blind to some antique table legs on our test run, threatening to knock over some photo frames and antique china.
Its motion is smooth, and it successfully un-stuck itself from the curtains.
I loved watching it ultimately find "home base" by IR and dock with it, 2001 Blue Danube style.
But I worried..
About non-techie users having to choose a "home base" location. A sleepy Roomba needs to locate its home, but a resting Roomba is hardly showpiece décor.
About long-term battery wear and life.
About how often you'd need to empty the dust out of his bowels, and what happens if you forget to do so.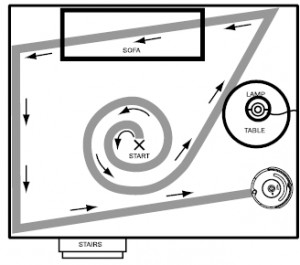 Navigation & Hackery & Papers
Roomba uses behaviors like spiraling, wall-following and room crossing (as explained in the image, right, from the manual) to create its not-quite-completely-random walk.
And below, check out this very clever 30-minute long-exposure photo (found at SignalTheorist via Botjunkie) that reveals the Roomba's "Lovely, Inefficient" cleaning path.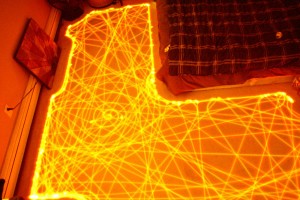 This brings us inevitably to the hacking. iRobot, to their credit, encourage you to hack Roomba!
Martha, whose Roomba apparently can bring her beer (wait… what?!), recommends the book Hacking Roomba. Here's the book's companion website.
Is anyone still using Microsoft Robotics Studio for stuff like this?  (ah, the memories of dancing Lego robots.)
In the meantime, with my head full of Roomba, it's the perfect time to re-read some of iRobot Founder Rodney Brooks' seminal papers, like Intelligence Without Representation and Elephants Don't Play Chess.
Because Elephants these days apparently can clean living rooms!
—
*the dust was left behind from the previous night's party, in an otherwise impeccably clean home (i.e. not mine)